I was on a meditation course this weekend with my favourite teacher (a Buddhist monk called Gelong Thubten).
We talked in-depth about the importance of integrating compassion and kindness to our practice of mindfulness.
For example:
During the meditation practice, our mind will inevitably wonder and thoughts will pop up, all in the name of distraction.
If people tell themselves things like "common' you, can't you focus!" it raises their stress levels.
If on the other hand, we kindly, gently bring ourselves back to focussing on the breath, without judgement, oxytocin is being released, which makes us feel safe and calm.
How compassionate are we with OUR creativity?
I am guilty.
I have definitely attended dance classes where I thought: "Common' Cindy! You aren't getting the groove right!"
Looked at my poetry thinking: "This isn't good enough. You are not sharing that with the world."
Preparing a show: "Girl, you better hurry up. Doesn't look like ideas come quickly to you, or is it?"
Meditation combined with the practice of compassion brought me on a different journey.
Being kind to myself when ideas popped up transformed my relationship with my creative juices, but also with how I share it with the world.
Creativity and making this world a better world
As an artist, I always reflected how my creativity could make this world a better world. Whether I am creating a show, teach a class or perform, I want it to benefit society in some way, shape or form.
In Buddhism, we dedicate our practice to the benefit of others. Meditation is not a selfish act to improve our own lives, it is also a practice to benefit others, making all lives more peaceful and joyful.
I believe that when we tap into our most profound creative potential, we have the ability to impact our communities, relationships and environment. I want to see everyone feel confident in their creative approach to life.
When I talk about creativity, I mean ALL creative ventures:
– finding solutions to business problems
– being creative in our public speaking
– putting ideas on the table during a meeting at work
– etc.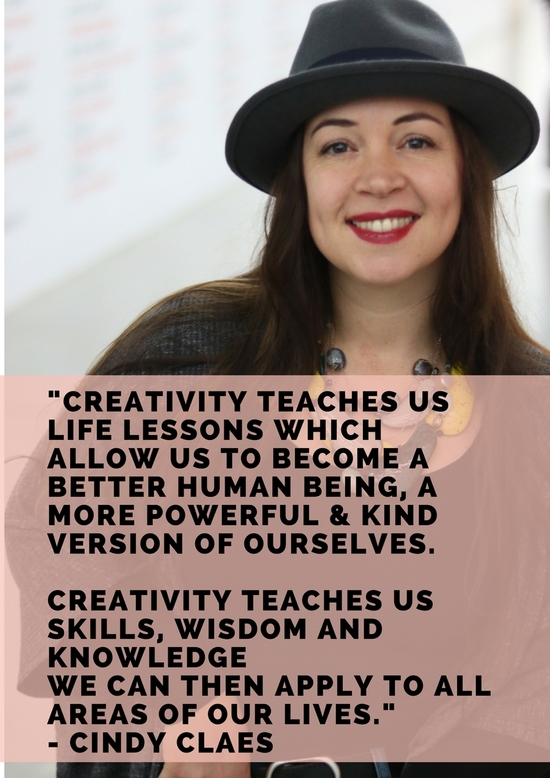 It is because I believe in the compassionate power of creativity, that I set up the:
DYNAMIC CREATIVITY RETREATS
A full weekend of dance, theatre, storytelling, creative writing… and compassion!
No previous experience necessary. All welcome.
SAT 25th & 26th AUG in London

The benefits of engaging in fun and mindful creative tasks impacts all areas of our lives (personal and professional).
Join us to tickle your funny bone and learn to think on your feet!
The objective of this Retreat Weekend is to:
cultivate a creative approach to life
a solution-orientated mindset
Cindy
PS: we have early offers on at the moment, book your spot now 🙂